Terms Of Use Statement Privacy Policy Purchase Agreement


DISCLAIMER: The manufacturers of the products mentioned on this site make no medical clams to cure anything. The information on this site is not meant to substitute the advice provided by your own physician or other health professional. It is for informational purposes only, and if you have any specific medical problem you should contact your medical advisor. Anyoneforhealth.com is not liable for any direct or indirect claim, loss or damage resulting from the use of this information.
FTC Disclosure: You should assume I may receive a small commission if you decide to purchase any products recommended on this site.

Independent Representative
Please note this site may not display properly in the AOL browser

Did you know the ideal balance of food intake is 80% alkaline and 20% acidic?
Guess how many people get it wrong?
Just about everyone!
Alkaline-forming foods are mainly vegetables and some fruits.
Acid-forming foods include just about everything else we eat including:
meat

poultry

milk

cheese

bread

pasta

pastries

snack food

soft drinks

packaged food

If you eat processed and packaged foods, and don't have the recommended 5 - 7 servings of vegetables every day, you could benefit from Miessence Deep Green Alkalising Superfood.
Just one tea spoon full in water or a smoothie is all it takes to get your daily alkalising greens!
Ingredients
certified organic spirulina, organic wheat grass (triticum aestivum) juice powder, organic barley grass (hordeum vulgare) juice powder, organic alfalfa grass (medicago sativa) juice powder, organic oat grass (avena sativa) juice powder, organic kamut grass (triticum turanicum) juice powder, certified organic spinach, organic nettle (urtica dioica) powder, organic collard (brassica oleracea acephala) powder, organic kale (brassica oleracea acephala) powder, organic parsley (petroselinum sativum) powder
How to use
Deep Green Alkalising Superfood: add 1 heaped teaspoon or more to water or fresh juice per day.
Each pot contains 30 x 3.5g servings (105g)
For a copy of the Deep Green Alkalising Superfood Fact Sheet please enter your name and e-mail address in the form below.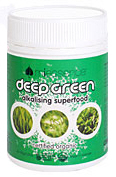 For more details on Mi-Vitality products
please complete the details below